Nutrition Facts
Caviar contains a large number of minerals, and vitamins A, C and D. Caviar does not contain trans fats or any carbohydrates, which sets it apart from many foods in the modern diet. Thirty percent of salmon caviar is protein. Salmon roe oil, which constitutes 13-15% of the product contains Omega-3 fatty acids.
Many think that since roe is so nourishing it must contain many calories. In reality, with such a high concentration of protein (about 30%) and 13-15% fat, the calorie intake from salmon caviar is not too great, only 240-260 calories for every 100 grams.
When serving as a separate appetizer, 1 ounce (28.35 grams) of caviar is recommended per person.
% DV*
3%
3%
0%
0%
0%
0%
10%
5%
7%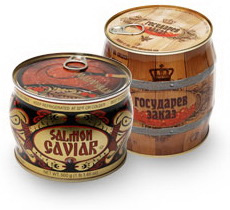 Ingredients: salmon roe, salt, sorbic acid (to protect freshness)
Serving Size: 1 Tbsp. (15g)
Calories: 40
Calories from Fat: 20
*Percent Daily Values are based on a 2,000 calorie diet