Caviar Pie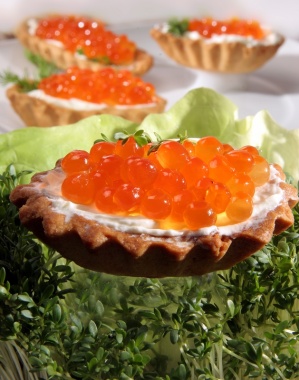 Ingredients
Nonstick vegetable oil spray
1 small onion, finely chopped
1/2 teaspoon sugar
10 hard-boiled eggs, shells removed
1/4 cup low-fat mayonnaise
2 tablespoons sweet pickle relish
1 8-ounce "brick" Neufchatel cheese (reduced-fat cream cheese), room temperature
1 tablespoon milk
8 ounces caviar (preferably 2 or more colors)
Lemon slices
Chopped parsley
Assorted crackers or toasted baguette slices
Directions
Spray a 9-inch-diameter tart pan with removable bottom or a 9-inch-diameter spring form pan with vegetable oil spray. Combine onion and sugar in medium bowl. Place 10 whites and 6 yolks in processor (reserve remaining yolks for later use). Chop coarsely. Add mayonnaise and relish and process just until combined (do not over-mix to paste). Add to bowl with onion and blend well. Spread over bottom of prepared pan.

Refrigerate 15 minutes.

Combine Neufchвtel cheese and milk in food processor. Blend well. Drop cheese mixture by teaspoonfuls over chilled egg layer and spread gently to cover. Refrigerate until firm, about 1 hour. (Can be prepared, up to this point, one day ahead. Cover and keep refrigerated.)

Spoon caviar decoratively atop cheese layer. You may use a round cookie cutter or poaching ring to create uniform patterns. Set cookie cutter gently on cheese layer, then spread black caviar around outside of cookie cutter and red caviar inside cookie cutter. Carefully remove the cookie cutter so black and red caviar remain in place. Garnish with lemon slices and parsley. Press bottom of tart pan up or remove sides of spring form pan, releasing pie. Place pie on platter; surround with crackers or toasted baguette slices.