Deviled Eggs with Caviar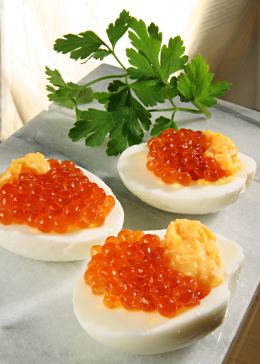 Ingredients
12 large eggs, at least a week old
1 tablespoon salt, plus 1-1/4 teaspoons salt (about 1-1/2 tablespoons total)
3 medium shallots, minced
2 tablespoons butter
1/2 cup sour cream
1/3 cup mayonnaise, homemade or store-bought
1/8 teaspoon cayenne
1/4 cup finely chopped fresh chives
Finely grated zest of 3 lemons
3 tablespoons red caviar, well-chilled
Directions
The night before the eggs are to be cooked, seal the carton with a piece of tape and turn carton on its side to center the yolks.

When ready to cook, gently place the eggs in a medium saucepan. Add water to cover by 1-1/2 inches. Add 1 tablespoon salt. Partially cover the pot and bring to a full rolling boil. Turn heat down to low and leave pot on the heat, covered, for 30 seconds. Remove from the heat and let eggs stand, covered, in the hot water for 15 minutes. Pour out hot water and rinse eggs under cold running water for 5 minutes. Pour out water and shake the pan to bump eggs against each other until all eggs are well cracked. Cover with cold water.

Peel the eggs under running water, rinse eggs, and cut in half lengthwise. Transfer the yolks to a bowl. Cover and chill yolks and whites separately for 1 hour.

Meanwhile, saute the shallots in butter in a medium skillet over medium-high heat until soft, about 2 minutes. Set aside. Mash the yolks with a fork. Add the sour cream and mash with yolks. Add the mayonnaise, 1-1/4 teaspoons salt, and cayenne. Whisk until well blended. Whisk in shallots.

Fill the cooked and chilled egg white halves with yolk mixture. Generously sprinkle each stuffed egg with chives, leaving a little yellow showing around the edges. Sprinkle each half with lemon zest. Cover and refrigerate. When ready to serve, spoon a bit of cold caviar onto each half. Serve well chilled.

Yield: 10 to 12 servings.